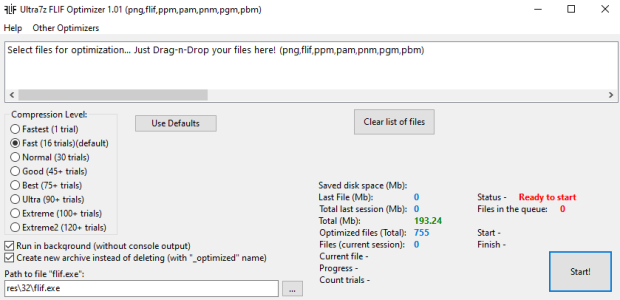 Optimize and convert your pictures PNG, FLIF, PPM, PAM, PNM, PGM, PBM to smaller FLIF files (up to 10-30%)! Full compatible with original FLiF format. High compression ratio — usually better than flif original (without tuning). Flif Optimizer tries many compression options and chooses the best result! Batch processing of files (drag-n-drop). Fast and Ultra modes for repacking! Reduce the size of your image files in one click! FLIF – Free Lossless Image Format. FLIF is a novel lossless image format which outperforms PNG, lossless WebP, lossless BPG, lossless JPEG2000, and lossless JPEG XR in terms of compression ratio. Program optimizes your file to new one with «_optimized» name ending (source file will remain intact).

Features:
– Full compatible with original FLIF format
– High compression ratio — usually better than flif original (without tuning)
– Supported formats: PNG, FLIF, PPM, PAM, PNM, PGM, PBM.
– You can set «Run in background (without console output)» or uncheck it for manual process control.
For daily use, I recommend the «Fast» mode, it is fast enough and gives good results.
Run only 1 active instance of the program!
Current file has its own status in the list: «running», «done» and «saved space».
Full stats:
1. Number of optimized files (total and current session).
2. Files in the queue (quantity).
3. Saved disk space (Mb) total and for each file in the list.
(You need to save files «res\size.txt» and «res\numbers.txt» before updating, if you want to save the overall statistics («Total»)).
You can specify the path to the file «flif.exe» manually in a separate form.
According to the compression experiments we have performed, FLIF files are on average:
14% smaller than lossless WebP,
22% smaller than lossless BPG,
33% smaller than brute-force crushed PNG files (using ZopfliPNG),
43% smaller than typical PNG files,
46% smaller than optimized Adam7-interlaced PNG files,
53% smaller than lossless JPEG 2000 compression,
74% smaller than lossless JPEG XR compression.
Even if the best image format was picked out of PNG, JPEG 2000, WebP or BPG for a given image corpus, depending on the type of images (photograph, line art, 8 bit or higher bit depth, etc), then FLIF still beats that by 12% on a median corpus (or 19% on average, including 16-bit images which are not supported by WebP and BPG).
The file format has been standardised and versioned. The latest stable version is FLIF16.
Works on any kind of image.
FLIF does away with knowing what image format performs the best at any given task.
You are supposed to know that PNG works well for line art, but not for photographs. For regular photographs where some quality loss is acceptable, JPEG can be used, but for medical images you may want to use lossless JPEG 2000. And so on. It can be tricky for non-technical end-users. More recent formats like WebP and BPG do not solve this problem, since they still have their strengths and weaknesses.
FLIF works well on any kind of image, so the end-user does not need to try different algorithms and parameters. The conclusion? FLIF beats anything else in all categories.
A FLIF image can be loaded in different 'variations' from the same source file, by loading the file only partially. This makes it a very appropriate file format for responsive web design.
No patents, Free.
Unlike some other image formats (e.g. BPG and JPEG 2000), FLIF is completely royalty-free and it is not known to be encumbered by software patents. FLIF uses arithmetic coding, just like FFV1 (which inspired FLIF), all patents related to arithmetic coding are expired.
FLIF is based on MANIAC compression. MANIAC (Meta-Adaptive Near-zero Integer Arithmetic Coding) is an algorithm for entropy coding developed by Jon Sneyers and Pieter Wuille. It is a variant of CABAC (context-adaptive binary arithmetic coding), where instead of using a multi-dimensional array of quantized local image information, the contexts are nodes of decision trees which are dynamically learned at encode time. This means a much more image-specific context model can be used, resulting in better compression.
More info about FLIF here
Please send any bugs and requests to maxc[email protected] whith subject "Ultra7z FLIF Optimizer"
It' free only for non-commercial use!
If you like my program and you want help improve it, you can help me (donate) here.
History:
2020-06-17
Ultra7z Flif Optimizer 1.01
– first release
Download Ultra7z FLIF Optimizer 1.01 (3 Mb):
Download here (3 mb)
Mirror 1
Mirror 2
Mirror 3