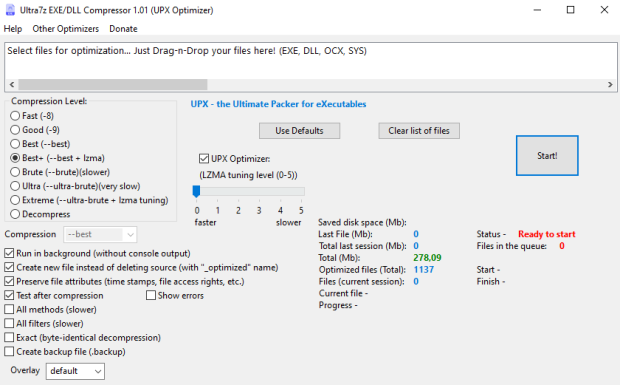 Compress your EXE/DLL executable files in smaller size (up to 200-300%) for best disk perfomance! Program uses UPX for compression and tries many tuning parameters for a smaller size. Programs and libraries compressed by UPX are completely self-contained and run exactly as before, with no runtime or memory penalty for most of the supported formats. 5 levels of LZMA optimization. Batch processing of files (drag-n-drop). Reduce the size of your files in one click! Program optimizes your file to new one with «_optimized» name ending (source file will remain intact). Test after compression.

Features:
– Compression of executable files up to 200-300%!
– Fast and ultra (slow) modes.
– Supported formats: EXE, DLL, OCX, SYS, BPL, CPL, AX, ACM, DRV, TLB etc.
– Option "Preserve file attributes (time stamps, file access rights, etc.)".
– You can set «Run in background (without console output)» or uncheck it for manual process control.
– Option "Exact (byte-identical decompression)".
– Create backup file (.backup)
– Copy or strip/skip overlay.
– Excellent compression ratio: compresses better than zip/gzip.
How does it work (UPX)?
UPX is an advanced executable file compressor. UPX will typically reduce the file size of programs and DLLs by around 100%-200%, thus reducing disk space, network load times, download times and other distribution and storage costs.
UPX achieves an excellent compression ratio and offers very fast decompression. Your executables suffer no memory overhead or other drawbacks for most of the formats supported, because of in-place decompression. UPX uses a data compression algorithm called UCL, which is an open-source implementation of portions of the proprietary NRV (Not Really Vanished) algorithm. UCL has been designed to be simple enough that a decompressor can be implemented in just a few hundred bytes of code. UCL requires no additional memory to be allocated for decompression, a considerable advantage that means that a UPX packed executable usually requires no additional memory. UPX also can use LZMA.
UPX can compress all executables, be it AOUT, ELF, libc4, libc5, libc6, Shell/Perl/Python scripts, standalone Java .classm, binaries, or whatever. All scripts and programs will work just as before. Compressed programs are completely self-contained. No need for any external program.
Unpacking mechanism.
A simple routine stub code is embedded into the now packed binary, that also acts as the entry point. As it starts running, it will allocate a new memory region in which it unpacks the original code. Then the program code jumps to the Original Entry Point (OEP) and continues with the execution of the original, unpacked program.
How does it work (UPX Optimizer)?
Different parameters of the LZMA algorithm give different compression ratios. Ultra7z EXE/DLL Compressor iterates through several such parameters and selects the best result. The time is a little longer, but the compression will be better. Even compared to the ultra-brute mode. It has 5 levels of optimization for LZMA.
Used programs:
UPX – the Ultimate Packer for eXecutables – https://upx.github.io/
UPX is Copyright (c) 1996-2021 by Markus F.X.J. Oberhumer, Laszlo Molnar & John F. Reiser.
Supported formats:
Portable Executable (PE, EXE and DLL files):
– ARM (Windows CE)
– 32-bit x86 (Windows Desktop)
– 64-bit x86-64 (Windows Desktop, still experimental)
– RTM32 (DOS extender, as generated by Borland C/Pascal compilers)
COFF executables, used by DJGPP2
Raw 8086/DOS files:
– DOS/COM
– DOS/EXE
– DOS/SYS
Watcom/LE (used by DOS4G, PMODE/W, DOS32A and CauseWay)
TMT/adam (as generated by the TMT Pascal compiler)
Atari/TOS
Linux kernel, i386, x86-64 and ARM
Linux Executable and Linkable Format, i386, x86-64, ARM, PowerPC, MIPS
PlayStation 1/EXE (MIPS R3000)
Darwin Mach-O, ppc32, i386, and x86-64
UPX does not currently support PE files containing CIL code intended to run on the .NET Framework.
Run only 1 active instance of the program!
Current file has its own status in the list: «running», «done» and «saved space».
Full stats:
1. Number of optimized files (total and current session).
2. Files in the queue (quantity).
3. Saved disk space (Mb) total and for each file in the list.
(You need to save files «res\size.txt» and «res\numbers.txt» before updating, if you want to save the overall statistics («Total»)).
Please send any bugs and requests to maxcompr[email protected] whith subject "Ultra7z EXE/DLL Compressor"
It' free for commercial and non-commercial use!
If you like my program and you want help improve it, you can help me (donate) here.
Icon made by iconixar from Flaticon:
https://www.flaticon.com/authors/iconixar
History:
2021-08-16
– first release
Download Ultra7z EXE/DLL Compressor 1.01 (UPX Optimizer) (English) (3 Mb):
Download here (3 mb)
Mirror 1
Mirror 2
Mirror 3